In these chapters, iBrow interviews one or more characters, asking for their thoughts on different subjects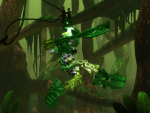 In the very first interview, iBrow interviewed Lewa Mata, asking him about sunjects such as himself and his future set forms. To everyone's surprise, Lewa Mata said that Lewa Phantoka had the best colour scheme of the four.
Notes: Lewa Mata admitted that he believed another set had a better colour scheme.
Interview #2 - Guest Star Roundtable
Edit
The guest star roundtable included every guest star from Season 2: Invasion, except for Xemnas, who became a guest star at a later date. During the interview, each guest star was either killed or imprisoned one by one, and even iBrow himself ended up dying.
Notes: Out of all the PSAs, Interviews, and Special Chapters, this interview is the most non-canon of them all.
Coming Soon.
In this interview, iBrow questioned Zaktan mostly on his thoughts about becoming immortal, and what he thought of the revival of Vultraz's Diner. Alot of the interview was filled with Zaktan finding ways to insult iBrow, which ended with him being guaranteed some very painful suffering in the next instalment of the main comedy.
Notes: iBrow's intelligence was insulted multiple times during the interview; however, iBrow also proved that he isn't as smart as he seems sometimes.